home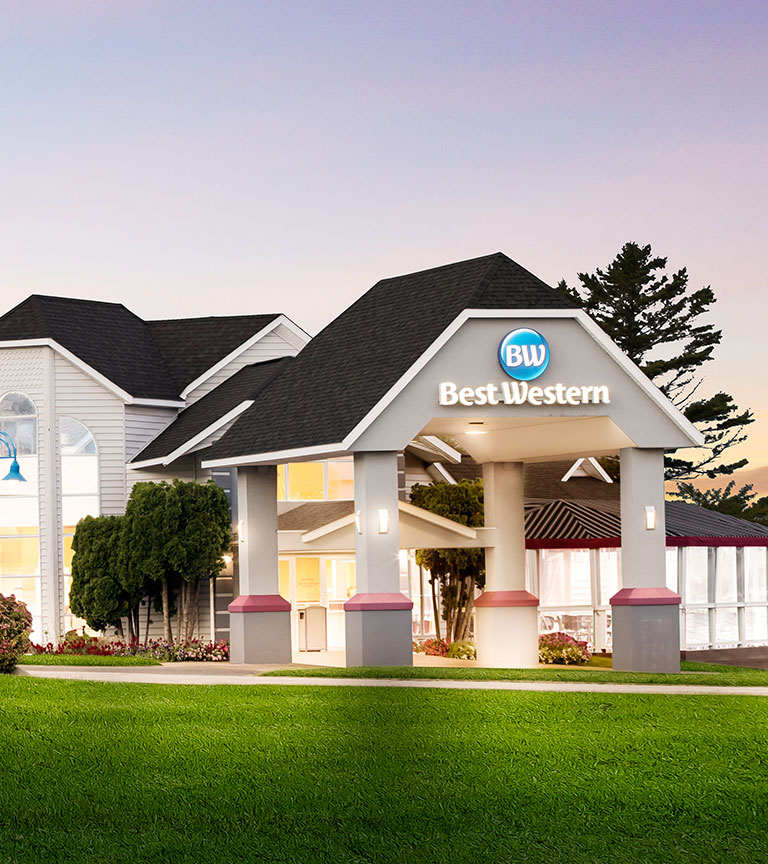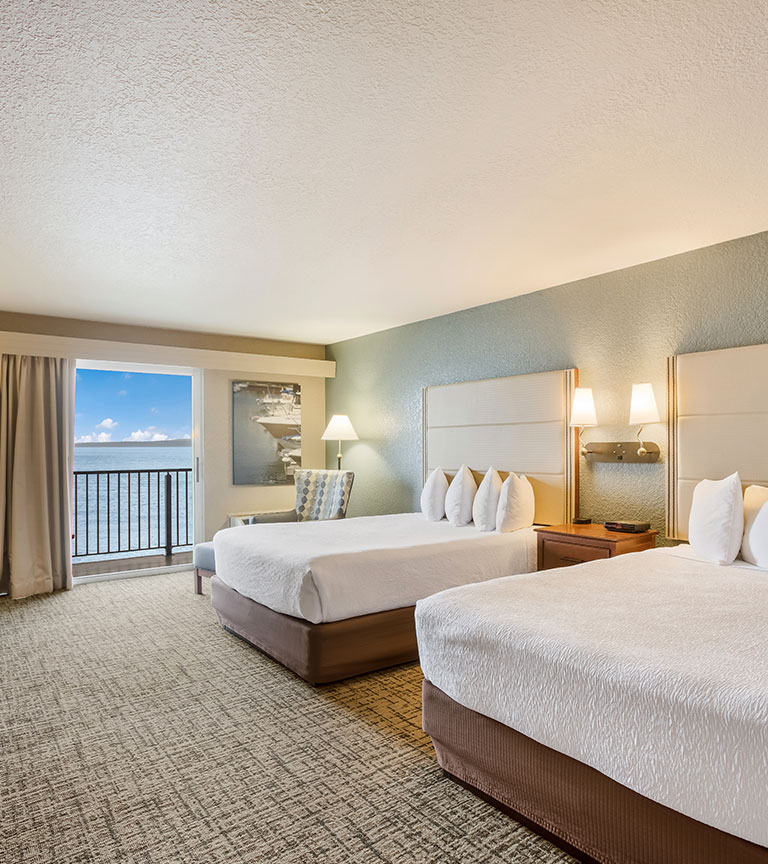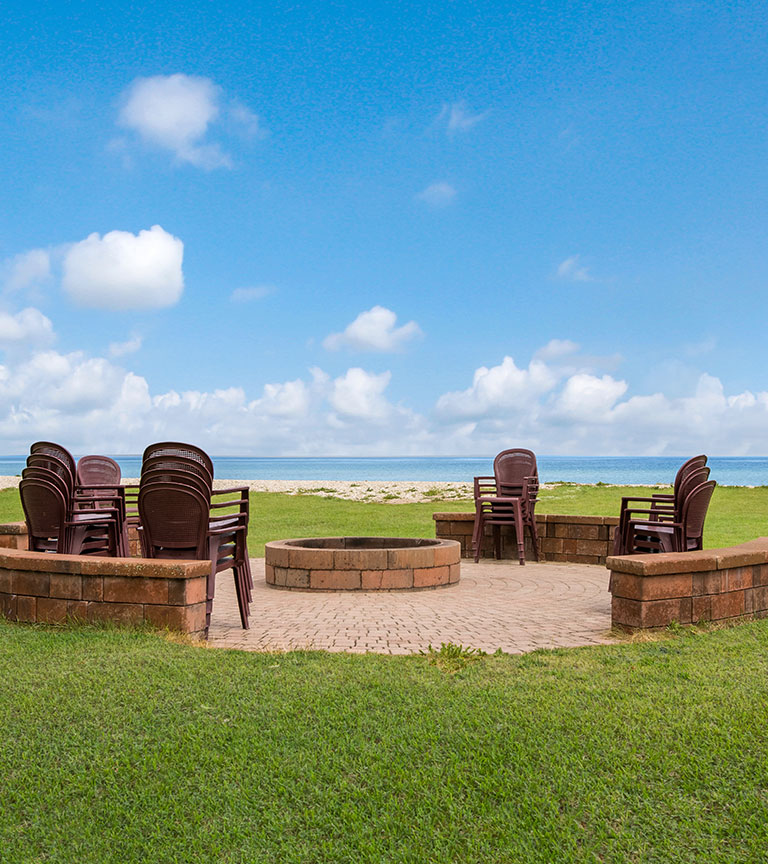 Welcome to Harbour Pointe Lakefront
Nestled on 800 feet of private Straits of Mackinac shoreline, guests come to our seasonal hotel for peace, tranquillity and pure relaxation. That experience became significantly better as Best Western Harbour Pointe just completed a three-year, top to bottom renovation, updating all guest rooms and public spaces. Regardless of which option our guests choose, each room now provides the latest in deluxe amenities and comfort – everything is new!
What hasn't changed is Best Western Harbour Pointe's stunning sunrises and lake views from our eleven immaculately landscaped acres. Our resort-like atmosphere coupled with our unique features provides the atmosphere for that true "Up North" experience.
Guests may choose accommodations with or without private balconies, full or partial lake views and even a lakeside location, just feet from the Straits of Mackinac shoreline. If you're looking for a great place to stay near Mackinac Island, look no further than Best Western Harbour Pointe Lakefront.
Rooms
We offer over 150 rooms to choose from in our four unique buildings. Want breathtaking lakefront views, or prefer to be close to the pool and dining room? Two beds or three bedrooms? At Harbour Pointe, there's a room for everyone.
Amenities
Our extensive suite of amenities includes indoor and outdoor pools, whirlpool spas, a complimentary hot breakfast, state-of-the-art fitness facility and more, making Harbour Pointe one of the best places to stay near Mackinac Island. Families love our children's wading area, large playground and evening bonfire with a marshmallow roast. The Best Western Harbour Pointe Lakefront is affordable, 100% smoke-free and your top choice for hotels in St. Ignace, MI.
Mackinac Island
Packages
All Harbour Pointe guests automatically qualify to purchase discounted attractions for the perfect Mackinac Island adventure. Choose from Shepler's Mackinac Island ferry service, Mackinac Island Carriage Tour, Wings of Mackinac Butterfly Conservatory and the Grand Luncheon Buffet served inside The Grand Hotel's main dining room. Advance reservations are not required and you may inquire any time during your stay or before arrival.
GUEST REVIEWS
We stayed for our 2nd time this year, and as always extraordinary customer service! Ronn the manager is fabulous! The new kid Lucas was awesome, my son Kameron kept having Lucas give him high fives and fist pumps. Lucas was very patient with him as was Ronn. The property is gorgeous as are the rooms. I have never had an issue over the years, and we have stayed them numerous times. It is a walk away from downtown St. Ignace with all types of shops, with some of the best ice cream and fudge around. Would recommend staying here for any trip. Counting down the days until we go in 2020.
I cannot say enough about this hotel. The room was spacious and warmly decorated. We had a lovely balcony with chairs overlooking the lake. It was advertised as a partial water view, but we could see the lake with no problem from the balcony. The breakfast was very good and the view of the lake from the breakfast room was outstanding.
The Lilac festival was great, must do it again. The carriage rides very well done, students' colorful explanations and storytelling was very informative, funny. Great, hotel, beautiful, clean, food excellent, right on water, perfect location.
Just spent one night but definitely will be back for future stays. Great staff, room, and view of the lake. I stay in many hotels each year for business and I don't always get to choose the hotel. I'm glad I chose to stay here, the lakeside room was excellent.
Beautiful, clean hotel. All hotels should have such professional, friendly employees. Breakfast was very good. Pool area was great. If you want a great hotel at a very good price stay at the Best Western Harbour Point in the UP.
The hotel is the cleanest hotel we have ever stayed in no matter if it was the continental US or any place around the world. The staff was extremely friendly and the accommodations were above anything we could have asked for. We would definitely recommend this facility
Quality service - excellent and very comfortable room - very clean and quiet- breakfast was hot and several choices - I have stayed at this Best Western a year ago and chose to stay again. I made the right choice- They make sure that your expectations have been met and accommodate your needs.
We repeatedly stay at this hotel. It is very well kept up, clean, and the staff is accommodating and very friendly. We have a good hot breakfast, and we always choose to stay right on the water. The view is amazing